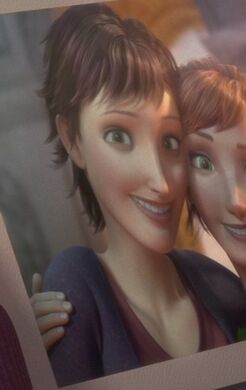 Susan Bomba
is
M.K.'s
mother and
Radcliffe's
wife, who left him and took their daughter with her.
After her death, her teenaged daughter went back to their old house, as she went back to live with her father.
Information
Edit
Other names: Mum (by Mary Katherine)
Family: Mary Katherine Bomba (daughter), Radcliffe Bomba (ex-husband)
Pet: Ozzi
Personality
Edit
From the way that M.K. hugged and spoke to the photo of her, it showed that Susan was a loving, caring mother. Since it was her husband's work that drove them apart, it is assumed that she didn't believe in "fairy tales" or the possibility that such a world of little people could exit, and that they live right next to her old house.
Appearance
Edit
Dark brown hair and green eyes, that M.K. had inherited from her.
Whether she went back to her maiden or kept her married name when she left her husband, is unknown.
The "incident" or fight that had made her leave is unknown, but it would of had something to do with her husband's work.