Welcome to the Epic Wiki!
Plot
After the death of her mother, 17-year-old Mary Katherine, or M.K., moves in with her eccentric scientist father Professor Bomba who has been searching for tiny humanoid soldiers called Leafmen.
They protect the forest Bomba lives near from evil creatures called Boggans and their malevolent leader Mandrake.
An independent young soldier named Nod decides to quit much to the ire of the no-nonsense Leafmen leader Ronin.
The queen of the forest, Queen Tara, must choose an heir to her throne and goes out to a field of leaf pods, guarded by a laid-back slug named Mub and a wannabe Leafman snail named Grub.
Characters
Official Trailer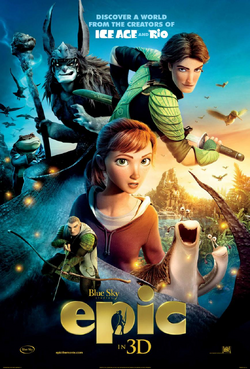 Social Media
Discussions
Community content is available under
CC-BY-SA
unless otherwise noted.